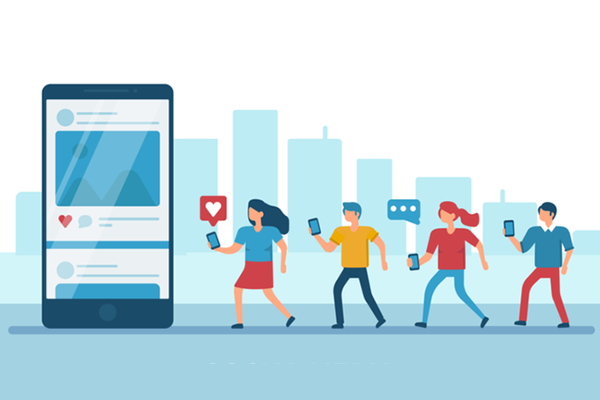 As mentioned above, social media is more than platforms like Facebook, Instagram and Twitter. We can say that almost every industry has a social medium for its area of interest. Even TripAdvisor and Airbnb are considered as social media channels.
The spread of social media has forced marketers to come up with new strategies. Social media marketing is an effective digital marketing channel that you can use to achieve your ultimate goals such as attracting more customers to your business, increasing traffic to the website, providing information about your new products, increasing sales, and supporting your customers.
Approximately 87% of marketers believe that social media marketing helps increase sales.
The way to succeed on social media is not to publish too much content, to advertise with high budgets or to open an account in all social channels. Analyze the social media where your target audience is most involved and start by creating a profile. Of course, provided that you do not leave accounts alone. One of the most common mistakes can be created and abandoned profiles. If you are going to do so, do not add social links to your promotions or website. Why you should present your audience to follow your social media accounts.
Don't have an account that constantly shares your business, your successes, and occasionally funny cat videos.
Website
Websites are still the basic structure of digital marketing channels. Many digital marketing channels continue to be used to drive traffic to the website. This seems to be the case for a long time. I would like to mention one of the main problems that are seen especially in medium-sized enterprises. I've seen businesses with a monthly marketing budget of 20-30 times the budget allocated to the website.
Totally contrary to the user experience, mobile designs direct traffic to their deplorable websites through advertising channels. However, if they optimize the website for a little user experience, if they create user-oriented designs, they can dramatically increase conversion rates.
What is social media marketing?
Social media marketing is one of the digital marketing channels aiming to promote and market products or services through social media channels such as Facebook, Instagram, Linkedin, Twitter. We may include content management in social media or direct advertising within the scope of social media marketing.
Although popular social media channels such as Facebook, Instagram, Twitter, Linkedin and Pinterest became widespread, the concept of social media began in our life with Usenet, founded in 1979 by Tom Truscott and Jim Ellis. Later, instant messaging platforms such as IRC and ICQ started to take place in our lives. Let me give you unnecessary information, these platforms are used as the reasons for the abbreviations like LOL, OMG that we use in correspondence.
In 2004 myspace entered the lives of numerous music groups / tracks that changed the world music institute and were waiting to be discovered. (I can put a piece about the past here) Opening Facebook in the same period, now we are dealing with TikTok.