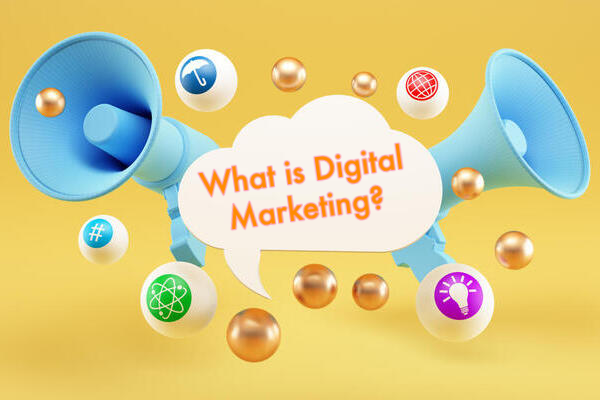 Digital marketing covers all marketing activities using electronic devices or the internet. In the digital marketing process, brands benefit from digital channels such as paid advertising, social media, e-mail marketing and search engines to reach their customers, promote or sell their products and services.
The revolution of mobile, search engines, and social media has made access to information and communication incredibly easy. An initiative with the digitalizing world can quickly become known all over the world.
Is this just about the spread of the Internet? Of course not!
One of the most important factors in these initiatives is marketing strategies.
What is involved in the digital marketing ecosystem?
• Search Engine Ads (SEA)
• PPC
• Search Engine Optimization (SEO)
• Mail Marketing
• Social Media Marketing (SMM)
• Website
• Content Marketing






Search Engine Advertising
Search ads are ads that appear on the search engine results pages, often with a sponsored links tag. It can be displayed at the top or bottom of the page. This ad model works with the Pay per click system. This means that your ads won't cost you any impressions, but you pay for clicks on your ads.
The basis of the SEA is the keywords and their bids. Bids are an important factor in determining the order in which you appear in related queries. (see one for another: quality score) Each keyword has different CPC costs. For some keywords, costs per click may be 0.05 krs, while others may cost 50TL.
The difference between PPC and SEA:
PPC ads are simply paid advertising. PPC ads include, but are not limited to, search engine ads. Search engine ads such as Google, Yandex and Bing are also covered by PPC advertising. We can even include media such as Facebook and Instagram in this group. Check here in more detail what is CPC.
Some information about SEA;
1. Search Engine Advertising is not limited to Google Ads. This includes search engine advertising platforms such as Yandex Direct and Bing search Ads.
2. Nearly 50% of all clicks on Google search pages occur in the first and second place.
3. The search engine more than 50% of the budget allocated to digital marketing activities constitutes ads.
4. Long tail keywords can bring more meaningful traffic to your website.
5. Conversion rates of long tail keywords are generally higher than short tail keywords.
6. You can test your marketing campaigns without allocating high budgets. You can start your search engine ads with any amount of budget.
7. You have the freedom to choose your landing pages. Using this, you can test your landing pages and direct traffic from your brand terms to your campaign landing pages.
8. Although long tail keywords have less access volume than short tail keywords, having hundreds of long tail keywords in a campaign will increase the return on investment.
9. Quality score is just as important as the bids you make.
10. The content, speed of your landing pages can greatly affect your quality scores and conversion rates.
11. If you own an e-commerce site, you may want to test Product Listing Ads.
12. You must create ad texts that are worth running. Using CTA in your ad text can increase your clickthrough rates.
13. You should test the ads you've created by creating alternate ad texts.
Search Engine Optimization
It is called SEO in short. Web sites, search engines to meet the criteria of the search results to increase the ranking. Search engines list search results according to specific algorithms. Search engines periodically update these algorithms to provide users with better, more relevant results. Google covers about 95% of the market share. The optimization process can be grouped under two main topics: on-site SEO and off-site SEO.
Site SEO
The technical infrastructure of your website, how it creates experience and interaction, is all about the process you provide to users. Let's edit the infrastructure of the website, one or two of the content is obviously far beyond printing. Think of your website as a supermarket. Navigation to guide your visitors to the categories of products, information about the expiry date or content of the products you sell, the presence of similar themed products in specific locations, your employees' interest and assistance to your customers, the presence of cookies alongside the content department, although most people may have cross-selling experience at the end of your shopping) to receive vouchers or have an easy return process. All this to give your store visitors a better experience, more secure and easy shopping. You can think of in-site SEO in this way.
Off-site SEO
If we go through the same example, off-site SEO work is that your store visitors or any person can talk about your store, refer others to your store or recommend them.


1. Content length of the first 20 results is more than 1000 words
2. 86% of the top 10 results in the US have the .com domain extension
3. Social signals are more impressive than 2015
4. Time spent on site is more valuable than bounce rate
5. The relevance of your content appears to be more valuable than the length of your content, h tags.
6. The impact of clickthrough rates is still too great
7. Using meaningful internal links in your content is a factor that improves the performance of your work
Mail Marketing
Mail marketing is a way to reach consumers directly by email. Although it is one of the oldest members of digital marketing, it is still one of the digital marketing channels with the highest conversion rates. Email campaigns are relatively inexpensive when compared to other channels in terms of interacting with your customers, selling, and creating brand loyalty. It can also become a very efficient marketing tool for your business when used with the right strategies.
• More than one third of the world's population has an email account.
• According to 2019 data, an average of 280 billion emails are sent per day. This number was 1.4 billion in 2009.
• The average office worker receives 121 emails per day. On average, 49.7% of these mails are spam mails.
• The opening rate of incoming emails on mobile was 21% in 2012 and reached 68% in 2016.
• E-mails sent by automation generate 320% more revenue than manual e-mails. (for example, sending automated emails reminding users that they have products in their shopping cart on an e-commerce site but have not completed their order).
Let's take a look at the analysis results of Pitchbox and Backlinko on 12 million emails in 2019. The results are as follows:
1. Only 8.5% of the e-mails were answered.
2. E-mails with a long title are about 25% more likely to be answered than short ones.
3. Sending more than one mail to the same user increases the chances of getting answers.
4. Personalized topics increase response rates by 30% and personalized mail content by 32%.
Social Media
Defining social media based on a few channels would not be right. These channels usually provide the opportunity to communicate between brands or users, to connect, to share feelings, thoughts or ideas instantly. You can create profiles for yourself or your business in many social media, and share real-time status, photos, ideas, etc. instantly.