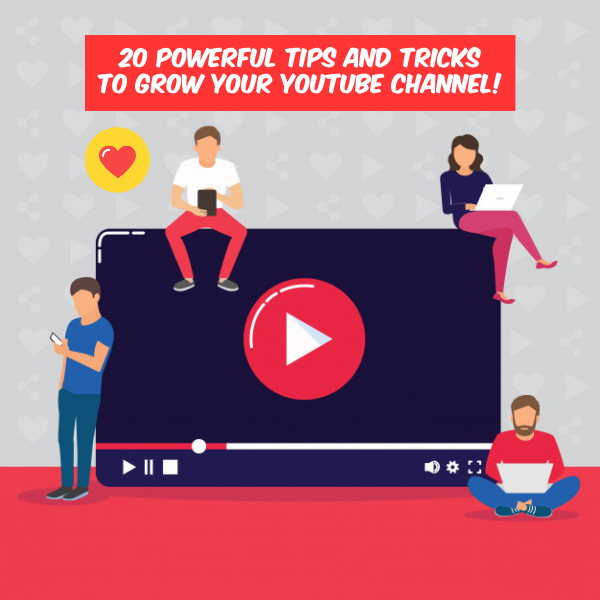 Powerful Tips and Tricks to Your YouTube Channel! 

To grow your YouTube channel, increase your viewers, subscribers and get more traffic to your website, some tips and hacks could be used for this sake:
1. Entice engagement:
• Ask the audience to like and share your video if they like the content.
• Ask viewers to subscribe to your video verbally.
• Increase audience engagement by asking your viewers to share their thoughts via comments.
• Engage with your audience by always replying to their comments.
• Pin a comment of your choice to appear at the top of the comments section. Whether it's a common reply, or call to action.
2. Embed your videos in social media and on your website.
3. Mention your video in websites as Reddit and Quora, as a solution for someone's inquiry.
4. Send your email lists a link to your website post, or directly to the YouTube video.
5. Push some interrupt patterns to keep the audience excited. You might use some graphics or texts, change the camera angles, or say something humorous or surprising!
6. Collaborate with other YouTube channels to promote yours. Make sure they are in a similar category; you might create videos and playlists together.
7. Use some music and sound effects carefully, it will express the mood you want to create for your audience.
8. Consider using a consistent color scheme in your videos.
9. Add a watermark to all of your videos, it serves as a custom subscribe button.
10. Organize your YouTube channel by creating playlists and sections. This will help you offer a cohesive content leading audience from a video to another. Also, it will pay off in SEO results as well. Use the thumbnail of your top performing video to represent your playlist thumbnail.
11. Get a custom URL for your YouTube channel.
12. Use cards in your videos. You can add many types of cards while the video is playing, such as polls, other videos and playlists, other channels, donation and external links.
13. Add end screens to videos, it appears at the last 5-20 seconds. You can build viewership with powerful end screens on your videos. Use end screens at the end of a video to:
• Direct viewers to other videos, playlists, or channels on YouTube
• Call for subscriptions
• Link to your website. However you should be an Eligible YouTube Partner to link externally.
14. Upload videos consistently, at least once weekly.
15. Go for more Video length: YouTube favors lengthy videos on small ones. However, it doesn't mean to make your audience bored, you have to balance between content and length. An average of 10 minutes would be great. Check this: assume you have two videos with same audience retention (50%), but one is longer than the other, the Lengthy video will accumulate more watch time for you, thus it will it's more likely to rank in YouTube Search (and get promoted on YouTube's homepage and in the Suggested Video sidebar).
16. Go YouTube Live. Use it to launch new products and services, special promotions, and some behind-the-scenes events.
17. Add subtitle/closed captions to your videos which helps YouTube to better recognize what your video is about, thus increasing the rank in search results for your video. They also aid individuals who can't hear (or choose to silent your video) comprehend what is being offered in the video.
18. Run a YouTube exclusive giveaway or contest.
19. Deploy YouTube Ads.
20. Review and build on YouTube analytics.