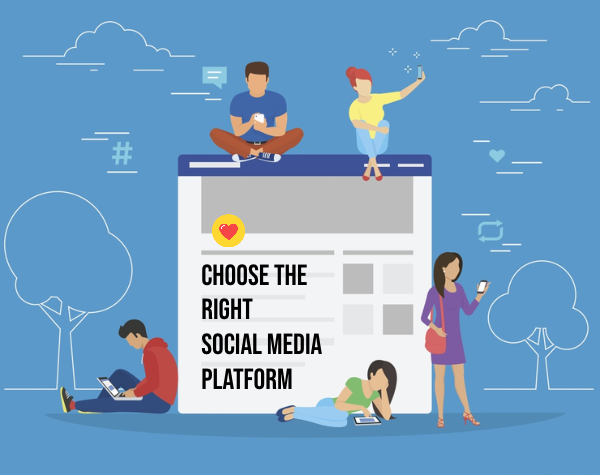 With the wide range of social media platforms available today, it is understandable to be confused about which one would be the best for your business. After all, there are budget restrictions and tight schedules to adhere to, and you cannot dedicate and distribute equal amounts of your time to every social media platform there is. That would not make any sense, either, because you need to think about your target audience, business type, and goals. Not every platform is meant for you. One of the key factors in successful business marketing is choosing the right platform. And while there are numerous options to choose from, you will now delve into each one to understand what is best for your business this year.
Facebook
Facebook has been thriving for more than a decade now and is undoubtedly one of the best social media platforms to use for marketing a business. It can be beneficial in targeting users between the ages of 25 and 34, with almost an equal balance of gender distribution. Another notable benefit is that most of the users are educated and have a higher income graph, and it can majorly help your business in driving more sales.
When it comes to existing and probable features, Facebook has come a long way in developing tools that are directed toward promotions and business marketing, making it an effective social media platform. It also offers options to post various types of content, such as images, videos, texts, stories, and links, giving you creative flexibility and a blank canvas to promote your business. One of the important factors to consider is Facebook ads. Also known as Marketplace Ads. You can use this helpful feature by setting budgets and promoting your business to a specific and interested audience. Other useful features for efficient business marketing on Facebook include Facebook contests, sponsored stories, and paid post promotions.
Instagram
Instagram has rapidly climbed the ladder to be ranked as one of the most sought-after social media platforms in 2020. It shows great promise ahead, too. And so, Instagram should definitely be on your list. This platform showcases a great number of users who follow brands and buy from them. Like Facebook, the majority of Instagram's audience also consists of educated people in higher income brackets. This is good news for your business. As for the features, you can use Instagram's business tools that offer direct interaction with your customers and show statistics like user engagement and the number of shares. It allows you to fix your content and promote it the right way to achieve further engagement.
Instagram's shopping feature can also come in handy. If your business aims to sell products, Instagram is your best bet, right after Facebook. You can post images, videos, stories, and links within stories to promote your brand and showcase your creativity. If you are thinking of using just two or three social media platforms for marketing, Instagram must be one.
Snapchat
Snapchat has slowly evolved from an entertainment platform into a marketing channel. Many people underestimate the power of Snapchat in marketing their businesses, but it actually has a lot of potentials. The first benefit is the target audience. As previously pointed out, this social media platform mainly attracts younger audiences, especially Gen Z. If your business aims to sell products or services to teenagers and young adults, Snapchat is the answer. Roughly 71 percent of the Gen Z population uses Snapchat regularly. Your content will successfully reach users between the ages of 12 and 34.
Snapchat uses the concept of stories in the form of images and videos. Even though there is a limit to developing content, you are given the flexibility to post constantly, without going overboard. You have a blank canvas each day, and followers often forget the content that you posted previously as it disappears within 24 hours. One major tactic that brands use on Snapchat is creating sponsored filters, as Snapchat users love playing with filters and lenses. Recently, brands like Taco Bell and Gatorade gained massive interaction by creating their own filters. You can also promote your brand by hiring an influencer who will take over your account for a day.
Twitter
Twitter is all about the power of text in a few characters. The majority of the audience on Twitter tends to be between 18 and 29 years of age, making it a viable option to target a younger audience. Again, the bulk of Twitter's audience is educated and falls under higher income brackets. One of the main concepts that Twitter beholds is the use of hashtags to reach a certain audience group or follow the trending topics on the platform.
Twitter offers the options of posting images, videos, and mainly text to voice your opinion or promote your brand. Since around 7,000 tweets are uploaded every second, your content needs to be powerful to be seen and shared across the platform. Twitter is actually a great way to interact with your audience, and it demands content that drives more engagement. Remember the humorous feud between Taco Bell and Old Spice; it created amazing engagement and promoted the brands.
There is great potential for advertisements on Twitter, too. You can either choose from Twitter's ad format options or promote your brand's tweet to encourage engagement. Another feature that is provided by this platform is Twitter chats, which can be used for maximum interaction and gaining twitter followers.
YouTube
While YouTube is restricted to video content marketing, it can still be used effectively. YouTube stands true to being a great marketing platform. With around 74 percent of users watching brand-produced content, 90 percent of which watch videos on a smartphone or laptop, YouTube offers great potential to reach a massive audience. It is one of the biggest platforms that have a major influencer impact. Numbers show that more than 50 percent of users have reacted positively to the content and responded well to the products displayed.
With no limit to uploading content, you can stretch your video's content according to the engagement it receives. You can also link or share your video to other social media platforms, increasing the quality of your content presentation. Use call-to-action tools to increase engagement, such as linking your Facebook or Instagram accounts, requesting subscriptions, likes, and shares, and providing a direct path to your blog or website. YouTube also provides you with a big SEO benefit, as Google can directly display a path to your YouTube video if the keywords match.
TikTok
TikTok is a great platform for content creators who are just starting out and want instant recognition. You will find the majority of the Gen Z audience on this recently viral social media platform. Following the same concept of stories and IGTV videos that last from nine to 15 seconds, TikTok has attracted around 600+ million users around the world. It is still debatable whether or not it's the right platform for marketing your business, however.
If you are planning to keep your brand identity subtle and composed, TikTok is not for you. It is rather rushed and wacky. If you want some humor and creativity to be continuously incorporated into your content, this platform can help you with it.
You can either show the features of your products or create a few short "how-to" videos instead of creating memes that could backfire on your marketing strategy. For instance, the cosmetic brand Lush regularly uploads videos showing the making of their products, which garners attention. You can also collaborate with TikTok influencers who have a massive impact on their audiences. Before taking action, you should discover the platform more and make an informed decision.
LinkedIn
Leaning more toward the professional side, LinkedIn can connect you with potential partners or customers. If you plan to start a business that requires professional connections, and you are willing to hire employees, LinkedIn is the right platform for you. You can constantly post findings, studies, demographics, or milestones achieved by your company, which will be seen on the main feeds of your connections. With 32 percent of users having acquired a degree and 24 percent holding certifications, the bulk of your audience on LinkedIn will fall under average or higher income brackets.
It is a great platform to generate B2B leads and create ads that promote brand awareness. You can also send personalized messages to your followers or audience when they are active to boost interaction. LinkedIn also has influencers and executives that can create a huge impact on the targeted audience. Even if your brand or business does not possess a corporate identity, you can still use LinkedIn as a plausible tool for gaining your audience's attention.
Pinterest
If the majority of your marketing strategy is based on image branding, Pinterest is the right platform for you. This social media platform acts as a brochure of images that target all disciplines, from art to fitness, and from home decoration to fashion advice. It attracts audiences based on aesthetics. A large part of Pinterest's audience is women (around 79.5 percent), who tend to browse the platform for various purposes. A chief factor that can be converted into an advantage is that you can find people from all age groups on Pinterest, mainly between the ages of 18 and 65, most of whom are educated. If you own a women-centric brand, especially if it targets mothers or women who are expecting, you must tap into Pinterest.
Almost eight out of ten moms use Pinterest in the United States, which can be a significant benefit. You can use a Pinterest business account, connect your other social media accounts to it, claim your website, put in contact details for customers to get in touch with you and create your board. Pinterest also allows for advertising and inserting links to your pins. Use the analytics tool to learn more about popular pins and to get more interaction. Produce your content in a vertical frame range to suit the Pinterest layout and to make it more aesthetically pleasing.
Conclusion
These social media platforms can be—and commonly are—used for effective business marketing. Now, that does not mean you should use them all. As a marketer, you definitely need to tap into Facebook, Instagram, Snapchat, YouTube, and Twitter, among other platforms, as these show a lot of promise this year and beyond. Depending on the type of business and content, you need to measure the potential that each platform will offer. If you do not feel the need, don't waste your time signing up for all these platforms, as that will take a toll on your budget and the quality of your content. Instead, focus on just two or three platforms if you are just starting out, and gradually build on that once you have established a dedicated audience.