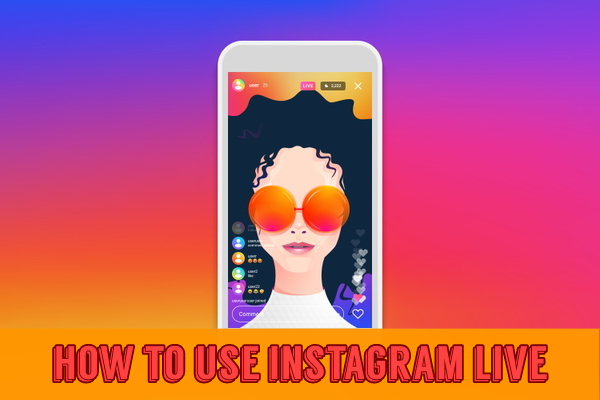 Live Stream As a Marketing Strategy on Instagram
While using the live video as a medium to pass your message, you need to hit the spot between spontaneity and professionalism. Although the whole point of live streaming is to eliminate the feel of post-production editing, your videos need to revolve around a focal point. You need to come up with a central topic that you will highlight during the session.
Promote your Instagram Live on your Instagram stories. Let your followers know you will soon be going live. Be specific on the exact time and topics you wish to cover. Additionally, this is an opportunity to let them know what you expect from them as far as engagement is concerned. Since not all your followers are in the same time-zone, be sure to add this little detail on your promotional Instagram stories.
The more buzz you create beforehand, the more Instagram live viewers you can attract. If you want to launch a product, use this opportunity to give a sneak peek of what you're planning to release. A little teasing will go a long way in getting your audience vamped up for the live video.
While your live video still gets massive viewership after you have posted it, it will serve you best if you can get the majority during the actual stream. This will increase engagement and make the chat room even livelier with comments streaming in real time. Such a scenario can spark a conversation between your followers that you can join in. This kind of one-on-one engagement is not easy to get after your live video ends.
Promoting your Instagram Live video should not just be limited to Instagram stories. You should go all out to try and reach as many of your followers as possible. Send a newsletter to your email list. One email should be sent a few days before you go live, and the other just before you start broadcasting. This will inform your fans beforehand about the event and remind them about it just before you go live.
Aside from Instagram stories, you can leverage other options on the platform for this purpose. Post a photo to announce your upcoming event in your story.
Although it might seem crazy, doing a live video to announce when you plan on going to live works. Create hashtags for your consumers and new consumers to share. Creating keywords for your products and services gives them a standing on search engines, as well. Many businesses who promote using these hashtags show up on top spots on SEO.
You probably have a host of accounts on other social media platforms. Use sites like Facebook, TikTok and Twitter to create a buzz about your upcoming event. Your website should also sing the same song. Although it might not necessarily get you many viewers, you have to try everything in order to maximize attendance. You will want to blast these sites with news of your intention to go live to garner as many viewers as you possibly can on the actual day.
That being said, there are a few tips you can use to maximize the effect of your Instagram live video:
Host a Pre-Show
Hosting a pre-show is a good idea depending on what you want to talk about. This is important because if a follower catches your live video somewhere in the middle, they will stop watching if they can't keep up with what you are talking about. This is why a pre-show briefly highlighting the details of your live show is a great idea. The pre-show should last about five minutes, which is enough time for people to come on board.
Define Your Goals
Although this is not necessary, you should go into your live video with a clear mindset of what you want to achieve. This gives you focus on what to talk about and how best to engage your audience.
Whether it is driving sales, promoting a specific product, or just fighting with your fans, having a set goal will give you a yardstick with which to measure your performance later. Even though Instagram Live is not the best way to drive sales, it is a strong feature for building your brand and creating a robust customer-brand engagement.
You can further entice the audience by sharing an exclusive discount with your live attendees. This will foster a feeling of exclusivity and can help drive your sales. You need to be creative in coming up with a timely ask for this at the end of your video.
Your goal should contain an outline of the points you want to drive home. There's nothing worse than a live video that just doesn't seem to end. Such a video goes on and on and, at some point, starts repeating already highlighted points.
Your outline shouldn't confine you, though, and it goes without saying that specificity will get you results. Even when you do go off script, ensure that whatever you say or add is in tandem with the topic of the day. Don't be afraid to go 'off script' from time to time. Often, this is usually the highlight of the video and makes for a memorable moment.
Be Engaging
Maintain a high tempo on your video. Since you will be interacting live with your audience, their time is invaluable. As a result, you do not want to bore them with a conversation that starts out great, but tapers off toward the end. Start, remain, and finish on a high tempo.
It is your responsibility to keep the interaction and chat room alive. Communicating in a bland monotone voice will lose your audience's attention. The key factor here is to engage and interact with viewers you already have.
If a fan says, "Hi," reply to the greeting. Answer all questions to the best of your knowledge. Remember, you are here for the audience. People associate a brand with its employees. Your interaction with the audience will either sell your business, or lose it. A bad experience is enough to put a fan off, and an unsatisfied customer is a dangerous entity for the business. Smile often, and foster a cheerful mood. Thankfully, there are face filters you can use to add extra fun to your video.
To reduce monotony, you should consider hosting a Q&A session with your audience. The topic for your video could merely be answering questions and tackling any challenges the audience may have with your product or service. It is a vital way of strengthening the relationship between brand and client, as well as helping people better understand your brand. You may find that such a session would receive better hits than one aimed at selling a certain product to your audience. Often, customers have many reservations about companies that focus solely on sales minus customer needs.
All in all, don't let any of your audience members leave the chat room unsatisfied. This is fodder for a bad review, and you just cannot afford such publicity, especially online. Ensure that you convince them to buy your brand, as well as your loyalty.
Record High-Quality Videos
When watching a video, 67 percent of online users perceive video quality as the most important feature. Similarly, according to a live stream survey, 23 percent would not confidently purchase from a brand that posted a poor quality video.
Quality matters. It means someone was thoughtful enough to look into the details. A poor quality video just shows you do not care enough about your brand or your audience's experience. As a result, you risk losing the fans you already have and missing out on hundreds you could have potentially gained.
While filming, invest in a good quality phone and ensure that your wifi connection is great. This goes for your service reception, too. Any hiccups in live streaming can deter viewers from watching your show. The sad reality is, no one is patient enough to stick around while you sort out your connection. They just leave. Period.
Highlight Day-to-Day Operations and Events
Eighty-seven percent of people prefer to watch behind-the-scenes content online. Whether your company is hosting an event or attending a summit, share this with your online audience. Posting still photos of the event is not enough to give them the full feel of the experience.
Let's say your company is hosting the local community at your office. Rather than confine the forum to the physical audience in the room, live stream the event to give your online audience a raw, behind-the-scenes experience. You should have a team member manage the online audience who can similarly participate in the forum, ask questions, and learn just as much as the rest.
This is not only a fun experience for all attendees, but it goes to show just how invested you are in your brand. People stick to a brand because they like the experience they get from the team. Ever wondered why people love watching behind-the-scenes footage of movie sets? It's because enjoying a movie is not enough. The full experience comes in knowing what happens where the camera doesn't reach. Knowing what celebrities are like when they are not shooting – these are usually the best clips. The same applies to your brand.
Most of the time, one product is usually not much different from the next. The true sign of power is if people choose you over everyone else. This is why you need your audience to connect with the people behind the brand.
You need to train your team in how to behave and speak for the brand. If you get your team as invested in the brand as you are, you shouldn't have any problems with your business. Many times we have seen customers swear off a product because an employee spoke ill of the company. Whether the negative publicity is true or false does little to repair the broken trust.
People buy because they have connected with someone on the inside. Your audience wants to know the vibe of your company, what the people are like, and what they think about the company themselves. Then, for a situation where you have multiple people representing your brand, take care to instill in them the principles you want to be reflected to the world.
Endorse, Launch, and Use a Product
Use Instagram Live as a platform to promote a new product. Announce to your followers the expected date of the launch in a video and talk the product up.
Honestly, this is the best place for a tease or live launch. Explain to your customers what makes your product stand out from the competitors'.
Create a buzz beforehand and go live a few minutes before the official launch, involving your audience in raw footage of the product launch. The suspense your video builds will draw your audiences to stick to the whole video until the very end.
This is a popular tactic Apple has successfully exploited.
Release a few details concerning the product in question, leaving the viewers in more suspense than they would care to admit. Done the right way, this tease will drum up your viewership and boost sales. Afterward, be sure to encourage them to buy your product, leaving accurate information about the price and where to find it.
This will ultimately boost sales and customer acceptance for your new product. Aside from promotions, another recent trend Instagram live has seen is videos demonstrating how to use a particular product. Timing product demonstrations with the product launch is a great way to get a good head start. Make sure the product you're launching is available to the public at the time your video goes live.
It is not enough to just hype a product and then leave the audience to their own devices. Showing them how to use the product, no matter how easy, is a great show of trust and care on your part. Say you run a makeup company; Live streaming tutorials on how to effectively apply the makeup, while giving tips on what shades match best with different skin tones, would mean a huge boost in your sales. Even though these things may seem trivial, they have a great impact on how your audience views your brand.
Host an Influencer
Doing a live stream with an influencer is an excellent way to vamp up your viewership and, ultimately, sales. To provide an expert opinion on the topic you are dealing with, you need to feature an influencer in a similar industry. Also, get an influencer your audience looks up to.
The good thing about this is that influencers usually have a mass online following of their own. During the hype leading to your live event, it is advisable to have the influencer with you to give a sneak peek of what the two of you will be discussing. Additionally, the influencer will invite his or her audience, guaranteeing you massive video viewership. The takeaway here is not only will you build a strong case for your brand, but your followers will also increase tenfold and the influencer's presence will drive up your sales.
If you are a clothing store, for example, teaming up with a young and popular fashion model could be a great boost for your business. The model could spot your articles, and the two of you could discuss how to pair colors and fabrics for different seasons and weather.
If the influencer you're targeting is not in the same location as you, Instagram has you covered. With a new feature called collab-live stream, you and your influencer could both host a live stream at different locations at the same time. There is no limit to online marketing.
If you want to reap some benefits for your live marketing campaign, assemble a special offer for the attendees. This is a great incentive for them to come back next time, possibly with their friends. Offer a coupon or discount for your product, specifically to your live audience. The special offer will get people spending on your products; even those who don't need what you're offering may know someone who does. This is how you build a strong fan base.
Building your brand doesn't necessarily increase the number of people viewing your posts and watching your videos. The numbers do not work that way. Your brand image encompasses who you are, your opinion on the matters people care about, and why they should trust you over a competitor.
This is why getting your audience to first trust you is imperative. If they trust you, they will be interested in you, and they will buy your brand. The best thing about building a solid brand reputation is that it resonates within generations. People influence their families, friends, and co-workers. This human connection your audience has outside social media is going to be the driving force that will keep you afloat long after your message has been forgotten.
Many households stick to a brand of soap or read the same newspaper for most of their lives. Research suggests that adults are most likely going to buy the same products they used in their homes as children, even after they move out to start their own families. This is the power of branding. Aim at fostering trust with your audience, and you can be assured a lasting business.