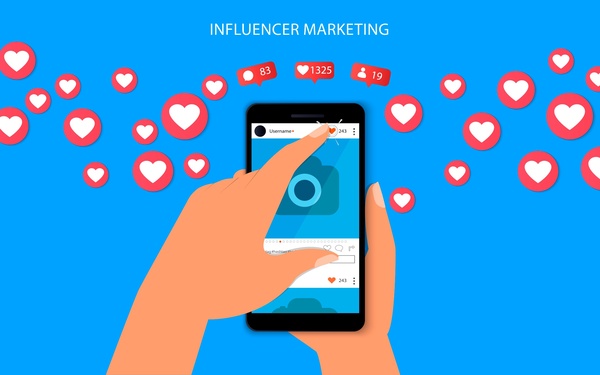 To understand why working with influencers is so important, first you need to understand what an influencer really is. They're much more than just people on Instagram who have a large following and post photos daily. These are people that have created their own brand around themselves. They can be trendy, fashionable, eat healthy, workout often, or simply post cute things. Every influencer has their own vibe and in turn have really similar followers to what they inspire to achieve.
While celebrities will get all sorts of people to follow them, influencers often affect a certain demographic and niche. They market promotional services or products to their large number of followers and use an opinion based on real life feelings and habits of buying.
Influencers won't promote a product or service if it doesn't fit into their lifestyle. The last thing these influencers want to appear is fake or easily bought and persuaded. They relate products to their family lives, the goals they are working towards, and normal everyday things.
It's not just about advertising a product. It's about creating an emotion and feeling with it as well that customers will be able to actually relate with.
Every big business is ready to jump into the social media marketing game and win big because they have big bucks to spend. And getting a celebrity to represent your brand or product can often cost a lot of money. That's why influencers are so important when using Instagram to promote your product.
More often than none, an influencer will promote your business, product, or service for freebies in return. This has become so common that ad agencies actually offer influencer services. When a regular person has a large and loyal Instagram following, they become almost invaluable.
In June 2018, Instagram reached over one billion people using their platform every day. It's not hard to understand why people are using this platform when it's so easy to share photos and comment on the things they like. When a single person can rule this platform with thousands of followers and people checking out their photos every day, then they become a reliable source of marketing and promotion. It's not a new concept and has been used for hundreds of years.
However, people haven't been as accessible as they are today. After all, influencers offer an authentic engagement experience that you can't get anywhere else.
As of 2020, the most followed person on Instagram is Cristiano Ronaldo. He's a Portuguese football player who has won some great awards over the years. He has a worldwide following and always posts pictures that are down to earth and easy to relate to. For example, if he's showing off his latest training shoes, he's not only just stating what he's wearing but why he wears those particular shoes. He likes the feel and design of them. Then, he includes a link where the average person can get their own pair. The best part, these aren't some super expensive shoes. You could go and get your own pair right now.
Now, do you think Cristiano Ronaldo is really wearing average shoes? Probably not when it comes to training. But his followers won't necessarily know that. They simply like his photos and are curious to know how he is doing in life. People who enjoy playing soccer might go out and buy these shoes. He's all about sports and will influence people who have similar interests and desires as him. But as the number one person being followed on Instagram, he comes with a pretty substantial price if you want to hire him to do a promotion for you.
To really understand how using an influencer works, you should know the difference between a celebrity and an influencer. A celebrity on Instagram that has a lot of followers tends to be paid big bucks to endorse a product or service. They are more like paid actors than anything. The reason why influencers are so looked up to is because they offer their followers an honest review after doing research rather than signing a contract. In turn, influencers are very selective about who they will promote. After all, they have their own reputation to protect in the process. They only choose brands that reflect their own unique personalities and won't cost them followers in the process.
When you promote your product on Instagram, you want a person to see your photo and have a real connection with it. It needs to spark a feeling and emotion of some type. An influencer represents something specific. They have their own niche and brand they represent. When you work with an influencer, you're not only gaining access to thousands of followers, you're setting the tone for your product. When customers use your product or service, they are going to feel this way, do these things, and expect a certain thing in return.
All of those 'things' and feelings are going to be translated to the customer through the influencer and how they portray themselves already.
Let's take a look at how big businesses have used influencers to relate to their customers.
One such example is Sprint's #LiveUnlimited campaign that used influencers such as Gerard Adams, founder of the Elite Daily, and internet personality Lele Pons. Not only did Sprint convince Verizon's famous "can you hear me now?" guy to side with Sprint in an epic marketing campaign, but they used big influencers in their ads to show them doing everyday things while relying on their Sprint phone coverage.
Old Navy did a similar thing for their Black Friday ad. They worked with Alex Rodriguez, a New York Yankee retiree, to help raise money for the Boys & Girls Club of America. Not only did that promotion raise one million dollars for the program, but also over a million dollars in sales for Old Navy. This is how everyday people who have a decent following online can influence people to make purchases even when they are not even promoting the company directly.
People will make purchases if they know a portion of it will go somewhere good. And who doesn't love the New York Yankees?
A smaller brand that you may be able to relate to is the shoe brand, Sperry. When they started to grow their customer base using Instagram, they got in contact with micro-influencers, those who specialize in particular niches and produce high-quality photos. They invited them to try their boat shoes and post photos wearing the shoes out and about, along with their mood and feelings.
The small company exploded overnight and created a pretty big following on Instagram as the campaign got underway. And all those followers led to the acquisition of customers.
There are many examples of how influencers have taken a product and made it big overnight. Big brand companies know how to do this, and now you're going to learn how to do the same. You understand why influencers exist, what they do, and how they can truly influence the world with the number of followers that they have. You can easily see why using influencers is so important when growing your business on Instagram.