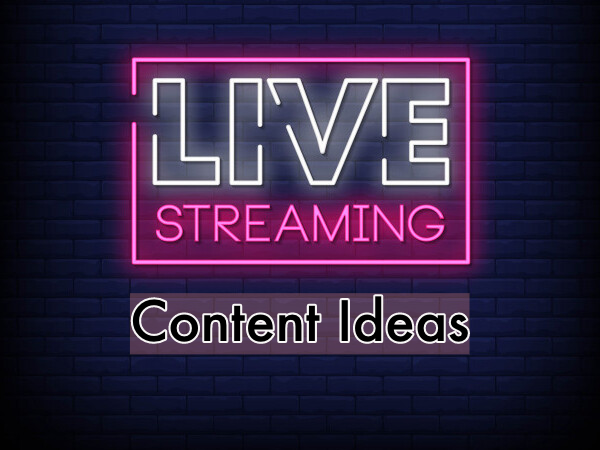 An important part of any social media marketing strategy involves planning, and live streaming is no different in this regard.
So in this post, we are going to cover a few live stream content ideas that you – as a business or solo entrepreneur – can consider when planning your own show's content:
Live Stream Industry Interviews
Most companies nowadays prefer the idea of conducting live stream interviews. You can, for example, run live streaming interviews with your employees who can in turn give your audience better insights into the inner details of how your company or business works.
These types of live streaming interviews show your customers the kind of culture your business has. However, make sure the employees you interview live are decent, stable, and approachable. The image of your brand is very important, and so you should protect it.
Customer Care Services
One of the major logistical conundrums of any company is customer care service. You need to have people on call who can handle the needs of your customers at all times of the day. However, the manual way of conducting this service (for example, having a dedicated member of staff available to answer phone calls or emails) tends to take a lot of time that could be used elsewhere in your business.
Taking care of customer service through live streaming saves a lot of time that could be used for other clients' needs.
You could run a weekly live stream show where you can help multiple customers – most of whom may be dealing with the same problem – all at the same time. You could also employ the method of hosting a training seminar on how to use your products. Or, you could train the customers in where and how to behave when they visit your company for help or business. This helps to avoid confusion within the business. Also, you could offer a training course for the employees who are lacking the skills for selling your products. They don't have to visit the headquarters of your company. Therefore, using social media live streaming in this way can make for an incredibly cost-effective teaching tool you can use in your business.
Gather Customer Reviews
In a good business, especially in the food industry, it is good to have a critique of the service and the food you offer. Consequently, you should use reviews to help you grow your business's brand. So, once in a while, why not host a mini-preview party for your customers via live stream? Your customers will happily tell you about everything bothering them, as well as give you ideas for how you can offer them a better service.
However, not all of your customers' recommendations will prove applicable to your business. Therefore, you should look out for the ideas or problems pointed out to you that are directly critical to the progress of your company and handle them immediately.
Also, during these preview parties, take the time to ask your customers what will make them happy. How would they like to be treated in the process of dispensing care and products? This Q&A party will help get you to the truth of all the adjustments you need to attend to.
Be wary of customers who enjoy stirring the pot, though. We all know these exist. They are the ones who like causing trouble, giving bad reviews just to get free stuff (with no intention of giving your product or service an honest review). So be sure you know the difference between constructive criticism and pot stirrers, and handle each accordingly. Taking constructive criticism will be great for your business, but handling bad reviews in bad taste will leave an even larger impression, and not a good one. When you are live streaming and doing a Q&A, be prepared for anything and have a smart and witty, but not too arrogant comeback for everything. No one likes a jerk, but shutting the troublemakers down with confidence and manner will make your loyal customers buy a lifetime subscription to your brand.
Offer a Sneak 'Behind the Scenes' Peek at Your Business's Operations
It is paramount that you show your customers how you operate from time to time. This, in turn, builds trust with the clients. Also, you should live stream about how the products are made and how the services are being offered. This will give the customer a sense of belonging. They should feel as if they are part and parcel of the company's operations.
Use this opportunity to set the expectations of your customers. For example, you could walk around your shop and show the availability and low prices you have in your store. Again, you can show the customers you are willing to negotiate the prices of the products.
"Nothing is too much for you" is basically what you are saying, and that is what a customer wants to know. Knowing that a business will go the extra mile is what will make them pay the extra dollar for whatever you are offering.
Introduce New Products and Services
Introducing new products and services is one of the best ways to exploit this modern-day live streaming marketing strategy – and it is a way for you to get your product out there faster and cheaper than ever before. You can also use this opportunity to teach customers about the product and its benefits. You can take the chance to showcase any improvements you have made to your service. Don't forget to urge them to try any new products or services that you have introduced to the market.
For example, at one time, GE (General Electric) made the point to introduce one of its electric cars through live streaming on Facebook. Immediately, the car took the social media community by storm. Almost everyone was talking about it, and many people wanted to get their hands on one of the cars. Many people also left comments, and it had over 56 thousand views during the live stream. It was later shared on the internet, and millions of other people watched to see what all the fuss was about.
Even the people who do not use social media heard about the news because they focused on the right platforms and viewers. Launching a new product or service via live streaming can really push your product or service further than ever before, but only if it is done correctly.