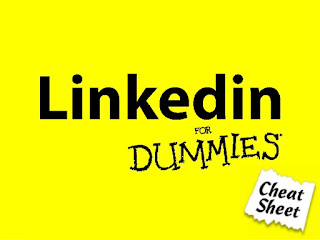 I know from personal experience that LinkedIn can be quite fuzzy when it comes to being a social networking platform. I don't so much mean the networking part since that is clear and straight forward. But for someone like me who hasn't spent too much time discovering LinkedIn, the other parts of the site are kind of fuzzy. If we take Twitter and Facebook for example, they are quite understandable and user friendly right away. I guess their greatness is all about having a simple user interface that takes you into the core of their services in an instant. However, all this doesn't mean that LinkedIn can't be the one service that really get things going for you.
If you are keen on getting started with LinkedIn as your primary networking service, and if you don't know where to start, just have a look at this LinkedIn Cheat Sheet that Dummies (yeah, the publisher of the "For Dummies" books) created. The sheet consists of pretty much everything you need to know about LinkedIn, and how to use it. It is actually called LinkedIn For Dummies and will totally make you a LinkedIn pro before you know it.
You will be treated to the trades of everything from how you build up your network to how to search for a job on the service. It consists of several sections which deliver around 10 tips each. To me, this thing is a gift from above since I have been searching for something that might educate me about how, why and when to use LinkedIn. I mean, I don't know if I am comfortable calling myself a "dummy," but this is certainly good advice. Well, maybe I am then.
If you are looking to enhance your experience when it comes to LinkedIn, then this is definitely something for you. Even for the most hardcore LinkedIn user, this could be sound advice to better your approach to greatness. There are probably a thousand different cheat sheets and infographics about LinkedIn by now, but this one certainly beats them all in simplicity. I'll study this thing and have a go at LinkedIn for the seventh time (or something in that order). It's going to be quite fun to see if I can find another perspective to this growing professional social networking platform. Let's geek it out on LinkedIn!