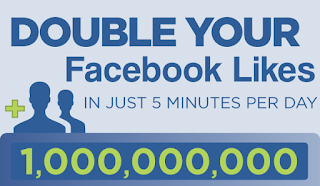 Double Your Facebook Likes in Just 5 Minutes Per Day!
There are more than 1 billion active Facebook users around the world, and this number is continually growing. If you don't already have your company on Facebook, now is the time to join. Follow these tips to increase your likes and connections on Facebook.
Garnering a greater number of likes takes dedicated effort and promotion, but may prove to be worth the effort for companies willing to invest the time and energy to build real relationships with their followers.
– Make Connections.
– Share Content.
– Be Active.
– Link to Twitter.
– Host a Giveaway.
– Use advertising to your advantage.
– Promote Your  Page