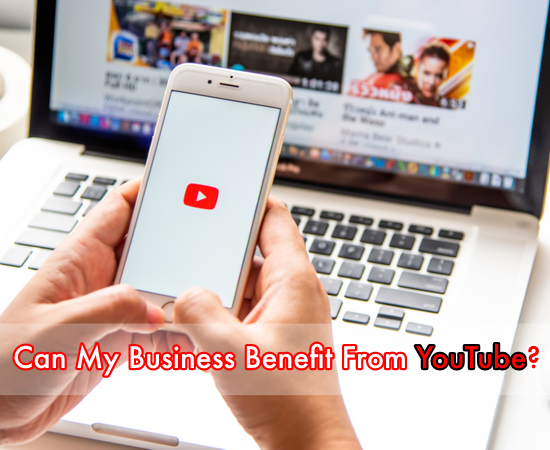 How can you use YouTube to help promote your business? In this post we are going to take a look at how you can use YouTube to help promote your business. This is not a traditional site that a lot of companies will look at. If they aren't into advertising or something creative like that, they assume that they are not going to be able to see any results if they chose to go with marketing on YouTube.
The truth is, anyone is able to see their business grow if they just learn how to use YouTube in the proper manner. There are a lot of different things that you can do in some of your videos, and sometimes it is just a matter of thinking about what your customers want, or even just thinking outside the box and seeing what you are able to come up with. Let's take a look at some of the things that you can do with your videos on YouTube, and how you can increase your reach, both organically and through paid advertising, on YouTube, no matter what kind of business you are.
Optimized videos to get more searches and clicks
It isn't a big secret. If you want to make sure that you are able to see some success on YouTube, then you need to make sure that your videos are all optimized to work well not only on YouTube, but also on Google.
By adding in the right keywords in the right places, such as in your descriptions, tags, and titles, you can make it so much easier for customers to find you when they do a search.
Title
We need to start by looking at the title. According to Google, it is recommended that you use the keyword you want to focus on first, then the branding second.
This helps it to be more friendly in an SEO sense. You could also add in a season and episode number, if you find that is relevant, but put these right at the end.
Your goal with this title is to create a clear picture so the customer knows what they are going to see when they click there, while also maintaining your SEO so you are easier to find. Try to keep the title short and sweet and to the point as well.
Tags
Working with tags is another thing to consider here as well. These tags are pretty simple and they are just going to be the main keywords that are going to relate to that video you are creating, and will tell others what your video is all about. For the most part, it is believed that YouTube is going to concentrate mostly on the first few tags that you write out, so try to make those ones as good as possible, or have your most important keywords close to the front. Your aim is to use all of the 120 characters you are given, but make sure they are all relevant to your video for the best results.
Description
The description is going to be next. You need to spend time on this one to ensure it is high quality and will garner the attention that you want. Include a call to action so the viewers know what you would like them to do when they are done watching the video. It can be something like asking them to visit your website or to watch one of your other videos depending on your goal. Remember that the first few sentences of this description are going to show up in search results, both on Google and YouTube, so make sure that you put a lot of value there.
Thumbnail
There needs to be a thumbnail that comes with the video as well. This is the image that the user is going to see that comes with your video. Don't skimp on this; try to bring in a high quality one that is going to draw in your customer and will help them to choose your video over one of the others that are available. You want to do an image that is 1280 X 720 pixels. YouTube can also generate a thumbnail as well, or you can upload your own.
How to promote your videos as well as your YouTube channel
The next thing we need to look at when it comes to organic reach with your videos is the different methods of how you can promote your videos and your channels. There are three main ways to get more YouTube views for the videos that you are creating and adding to your channel.
These three ways will include:
1. Getting a rank that is higher for YouTube or Google keyword searches.
2. Having a subscriber base on YouTube that is large.
3. Promoting your channel and your videos through other web properties.
The previous section already took some time to discuss the best ways to optimize the videos that you are working on. Growing your channel on YouTube, and being able to promote these channels and videos on other web properties that you own will be the next, and sometimes the most challenging part, of this whole process.
Some of the ways that you can help increase your views and subscribers to your videos includes:
1. Promote these videos and your YouTube channel on the other social media profiles. You should include some hashtags that are relevant on these posts so that you get even more reach.
2. Engage with your loyal fans. When you spend time looking through the Creator Dashboard, you will see which users are the most engaged with the content you provide. You can consider involving these fans in some way to nurture some brand ambassador relationships later on.
3. Add a widget for YouTube on your blog: You can use a tool such as Tint to help you display a number of videos, these can be your own or someone else's, in a widget that goes right on your blog or website.
4. Collaborate with other business owners who run a complimentary niche: approach some other YouTubers and see if they are willing to promote your videos if you promote theirs. You can even consider co-branding videos in order to use them for both audiences.
5. Engage with your users, both on their videos and on yours: Social media is going to see the best results when you interact and engage with others users, but this doesn't mean that you should just stay on your own channel. Leave comments that are well thought out on videos and respond to any comments left on yours. Remember, the more interactions you have with your videos, the higher you will rank in the search.
6. Share your videos on your email list: Direct the audience to your embedded videos on your site in order to increase your page views and your video views.
7. Embed the videos onto your blog or website: Add videos to existing posts on your blog, or you can even come up with new blog posts that are specifically there to promote your videos. This will help you to increase your video views, and increase your pageviews on the site.
Making your reach organic on YouTube can take some time and may not happen as quickly as you would like. But it is a great way to ensure that you are finding people who are truly interested in the content that you try to provide. There are also some paid options that you can choose to work with as well, but whether these are going to be as successful as the organic reach that we have just talked about, depends on your audience, on the products that you are trying to sell, and more.
Paid advertising on YouTube
You also have the option of doing paid advertising on YouTube to help you reach more potential customers. Plus, paid advertising is often going to be much faster than what you are able to do on your own organically. On the YouTube platform, you are able to turn any video that is already on your page into an ad, or you can create a video that you want to use specifically as an ad. With the right targeting of keywords, you can make sure that your video is one of the first ones that shows up in search results, and that it appears alongside other similar videos when your potential viewer is online.
Marketers on YouTube are going to have a few options that they can use when it comes to targeting and setting up their YouTube ads. You can target based on a variety of demographic factors like keywords, gender, age, location, and so on. You can even choose how big the ad is going to be. Many marketers like to go with the larger ads that are 850 by 250, though there are other options that you may want to experiment with a bit to see if they work for you.
If you want to make sure that your videos are getting a boost each time you put them online, or you want to really grow your following and your profits online, then advertising on YouTube is one of the best options for you. For a marketer who has never worked online or with YouTube, the options may seem overwhelming, but it is a great way for you to get more social reach and can help you to get off the ground.
There are a lot of marketing options that are available when you decide to work with YouTube, especially when you are doing paid advertising. YouTube ads are the most common ones that you are going to use. And these will just be a video of your choice. Of course, you should never just randomly put a video up. You need to go with one that is high quality, one that you think may go viral if possible (this is a hard thing to predict, but if you aim for a good video that is catchy, it could happen), and one that may get the viewers to head over to your channel to see what other videos they are able to purchase.
If you are able to make a good video, one that has a good hook in the beginning that will keep customers on the video rather than clicking away, you are going to increase the reach that you have online. This is going to help you get the results that you would like, and will ensure that your return on investment from running these ads is as high as possible.
What is TrueView?
One neat feature that you are able to explore when it comes to advertising on YouTube is the idea of TrueView. This is something that you are likely to hear about pretty early on when you start marketing.
This feature is basically a way that YouTube is able to create some commercials, commercials that look similar to the ones that you may see with other online television or streaming services. This is actually going to be a highly successful form of advertising with YouTube and one that you as a business should take full advantage of.
When you are looking into doing a TrueView ad, you will basically need to start out by creating a short video for something that you want to advertise for, whether it is your channel, your brand, a product, or something else. Your goal here in most cases is to get any potential customer who sees the ad to really learn some more about the company.
Then YouTube will take these videos and place them at the beginning of another video that is being monetized. There are a lot of individuals and even companies out there who post videos and then earn money when advertisers put their videos at the front, and sometimes in the middle, of those videos. This helps those individuals to make money online, and ensures that you are able to gain more viewers.
Now, for this to work, the video that you would like to post needs to be monetized. This is why there are still some videos that show up on YouTube that have no commercials on them. If the poster doesn't monetize their videos, it means that they are not going to have any commercials show up, and they are also not going to earn any money from advertisers on the videos as well. This can help direct your search when it is time to figure out which videos you would like to post on or not.
TrueView is not the only way that you can work to advertise your company on YouTube though either. Another option is to work with InDisplay Ads. These kinds of ads are going to show up as a thumbnail next to the video that a viewer is looking at during that time. Sometimes these are going to look similar to the PPC ads that other social media sites will use, but they will also come with a little thumbnail of the business or the video as well. From here, the viewers are able to choose if they would like to click on these ads. These are a great option if you would like to be able to promote other videos that may be present on your channel at this time. These InDisplay ads are a good way to restart a campaign that is viral or to get started with having people watch a bunch of your videos at once.
There are a lot of different options that you can utilize when it comes to TrueView, and you can be a bit creative in order to stand out from the crowd. You will notice though that when you use some of these TrueView ads, you are not going to be billed in the same manner that you are for a regular Google Ads ad that you would place with Google.
InStream ads are going to be billed on a cost per view format. This means that you are going to be charged any time that someone clicks on your ad and then stays there for a minimum of 30 seconds. If this happens, regardless of the conversion or not, then you will have to pay. If the viewer doesn't click on the ad, or they don't stay for 30 seconds, then you won't have to pay for that.
Now, you really need to make sure that you are creating videos that are high quality and will keep the interest of your viewer until they get to the call to action and perform the action that you would like. YouTube ads are not stuck. This means that your viewers are able to skip them after five seconds, both on a PC and their mobile device. If the video doesn't hold their interest, they are going to be able to skip past you without getting much of a chance to know much about you.
This does allow you to get yourself in front of other people more, and some viewers, if you made the video well and had a nice hook in the beginning, may remember you and head to your channel to check out more as well. But it means that the standards are high. If you just assume that any old videos are going to do the trick and you don't come up with something that is high quality and attention grabbing, then you are going to end up with a lot of people just skipping over the ads that you are creating.
The ads that we have talked about here are going to fall into the cost per view format so keep that in mind. What this means is that you are going to be charged any time that one of your potential customers clicks on the thumbnail of the video and watches it on their page. If the customer sees the ad, and then doesn't actually click on it, then you won't be charged at that point. But any time a customer clicks, even if they don't end up finishing the video, you will be charged for that.
The above are the two main options that you are going to have when it is time to work with the option of paid advertising on YouTube. Having a good plan, and understanding how each works and whether they are going to be the best for you is so important when you are trying to set up a campaign that works for your needs.
But the number one thing that you need to do, no matter if you are working on your organic reach or paid advertising, is the quality of your video.
People are not automatically going to see your business and then click on the link to make a purchase. You need to give them something to incentivize them to go there, a good video can be a good start. Show them about your company. Show them what you are able to offer. Or find something else that you are able to put into your videos to really impress them and convince them that it is worth their time to check you out. Without this catchy video, and without any enticement to at least head over to your website, marketing on YouTube is going to be worthless for you.