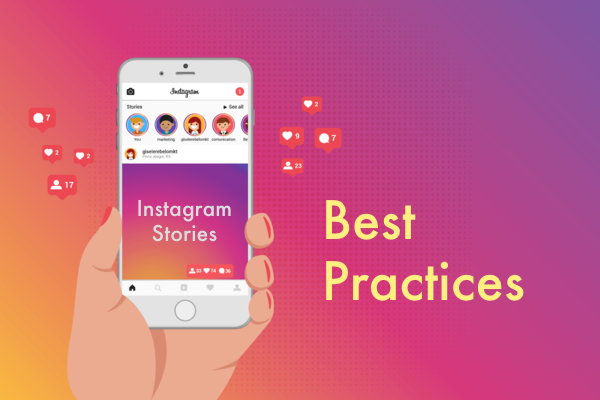 Millions of people are viewing Instagram stories, making this platform a preferred choice for contemporary business ventures. Stories have gradually become the potion for successful marketing tactics that innovatively reaches out to the target audience and helps in converting leads into prospective clients via keeping them updated.
Best Practices To Create Perfect Instagram Stories
Following are some of the best practices to create perfect Instagram stories that only communicate with your viewers but help in creating a strong base of brand advocates:
Don't Underestimate The Use of Stickers
Instagram is a place where people across the globe connect and share their ventures, thereby making it a clickable space. Making your stories as appealing as possible is the right way to create that perfect Insta story. Use stickers that appropriately go with your content or picture. Using appealing and animated stickers increases the chances of viewers' attention.
Use Polls For Interactions
Whether it is a personal blog or business account, using polls on stories helps in creating a friendly relation with your viewers. Polls further assist in gauging the feedback from audiences that end up in insights for making substantial changes. It is also advised to be regular with polls, once you start polling culture on your account, keep it regular and fixate a time to post it in order to get maximum views.
Use Hashtag
Hashtags are the sure shot way to stay in the lead. Whenever you post a story make sure to add appropriate hashtags to gain traction. With features like hashtag search prevalent on Instagram, it becomes important to add hashtags to expose your content in front of thousands and millions of viewers.
Behind The Scenes Videos
Audiences always want to know what happens behind the curtains. Your business might be successful but showing some of the behind the scenes videos further helps in creating a personal relationship with each and every viewer. You can either go live or post an IGTV video to gain instant attraction.
Categorized Stories
Categorizing stories and giving them respective headers makes it easier for viewers to quickly look through different events, products and services of a business.
Highlights are the perfect example of balancing all your resources into a single page. Highlights are just like a dashboard that comprises all the vital glimpses of your business from where viewers can select as per their requirement.
Whether it is keeping pace with the dynamic marketplace or creating staunch brand advocates for business, social media platforms have given their immense contribution in leveraging businesses virtual prominence in the digital sphere. Stories are one such medium to flourish. Adhering to the market trends, using the right techniques and listening and engaging your viewers is the ideal way to generate a strong online base.