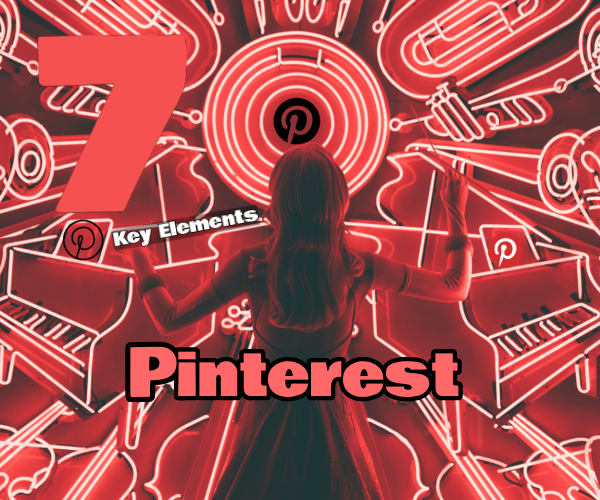 PINTEREST IS A VERY promising platform. It is a mix between a search engine and a social media platform; visual search and discovery platform, maybe a social bookmarking tool. Pinterest Statistics show a massive growth in their user base; it is one of the greatest opportunities for your marketing strategies.
Pinterest is where you feel inspiration. Everything people do on Pinterest leads them closer to action. They do more than browse feeds: 70% search, save or click on a Pin. Since people use Pinterest across the consumer journey, your brand can play a role all the way from inspiration to purchase. People use Pinterest to plan, so businesses see great results. People's behavior on Pinterest gives you clear signals on what your audience wants and how to help them.
7 key elements in Pinterest are:
1. Your Main Profile page
That will show me the Pins and Boards you follow, Tries (pins you tried to engage with, you can submit a photo of a tried recipe described in the pin), and Topics (formerly 'Interests') which are feeds of Pins about a particular category. Follow a topic and you'll see Pins related to that topic in your home feed.
2. The Pin
This is any image or video a pinner saves to the platform. For businesses it should be associated with a link back to the website. People utilize Pinterest to discover and save ideas. Ideas can take lots of forms, from recipes to renovation projects to the perfect pair of shoes. Both Pinners and businesses bring content to Pinterest. Once someone adds a Pin, other people will start to see that Pin in their home feed and search results. You can create a Pin, or Pin an image from around the web, or you can "Save" an image that's already created on Pinterest to your own boards where you can change the description if you want. You can edit or delete pins and edit or delete comments on any pin of yours. Some pins are Buyable Pins: These are products that you can buy right on Pinterest, without ever leaving the app. By the way, pins live for a long time, for months or even years, whenever someone saves your pins it will revive again!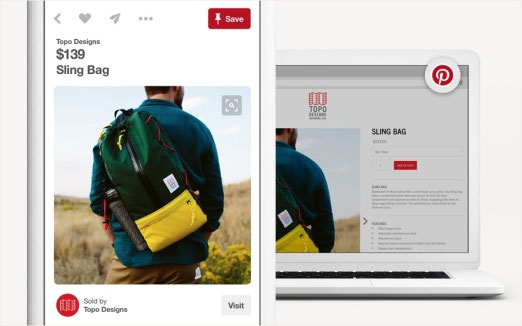 3. Board
Every Pin lives on a "board" that clusters related ideas. Someone may categorize their boards by need or interest, product category, or seasonal topic. People could follow your entire account or choose specific boards inside to follow. Boards could be also segmented into sections as per your requirements.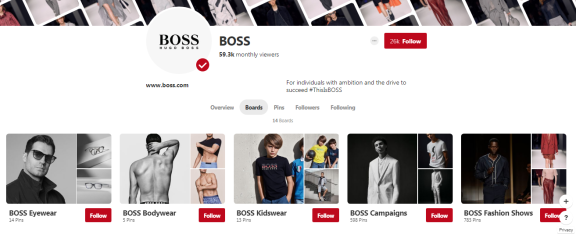 If I "Follow" HUGO BOSS account, I will see some of their Pins in my home feed, and Pinterest will know I'm interested in Fashion and Style and will show more Fashion and Style Pins in my feed.
4. Your Home Feed
In the Pinterest home smart feed, you should see a mix of:
• Pins from people, topics and boards you follow.
• Pins picked for you, Pins that we recommend based on the boards you create, Pins you save, and things you search for on Pinterest.
• And Promoted Pins pool.
The smart feed algorithm looks at many factors to determine the rankings of pins shown in your feed. Four major factors influence what you see in your home feed:
• Domain quality:
Pinterest will prefer to show content from trusted domains.
• Pin quality:
Pin popularity and pinners' interaction with it, and its freshness.
• Pinner quality:
Content created, and you pinning and saving activity.
• Relevance:
Relation of pin to a certain board or topic.
5. Dedicated following tab
Your following tab is where you go to find the latest ideas being saved by the people and brands you follow. To visit your following tab, click "Following" at the top of your home feed on the web, or tap the Following icon at the bottom of the Pinterest app on your phone.
Pinterest will show the first five pins from each account you follow prioritized. After 5 of your pins, pins from other pinners will show up, and so on. Then a little later, maybe an additional 5 more of your pins will show up.
6. Search
You can search for Pins, boards, people or hashtags in the search bar. If you're not quite sure what you're looking for, try typing in something general ("food ideas"), then use Pinterest's built-in search guides (like "healthy" or "for kids") to narrow down your results. If you're on your phone, try tapping the camera icon next to the search bar to do a visual search for related ideas.
7. The "more ideas" and "Recommended" tabs
Click the "more ideas" tab at the top of each of your boards (or board sections) to discover personalized recommendations inspired by the Pins you've already saved. Find anything from new ideas you might love to tips for how to organize your board into sections. Click on the following tab, and then on the recommended tab to check recommended profiles from interest platforms based on your interests.